Zeus, manual filter ventilation equipment (FVE)
Our manual filter ventilation equipment ensures clean air in the event of weapons of mass destruction. It is therefore suitable for both fallout shelters and improvised shelters. It cannot be compromised by an electromagnetic impulse and is completely independent of electrical power.
An advantage of this equipment is that for its power drive, it primarily makes use of the weight of the whole body, which enables its operation with relatively little physical effort, and therefore it can also be used by children.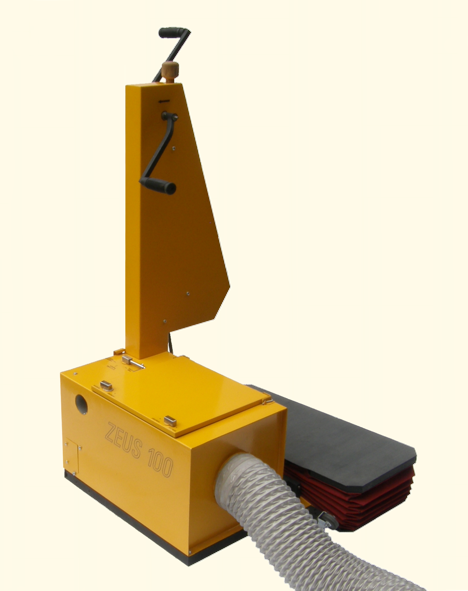 Details of filter ventilation equipment Zeus 100 and Zeus 150
Parameters
Zeus 100
Zeus 150
Max. flow rate (filtration)
100 m3/hod
(3,531 ft3/hod)
150 m3/hod
(5,297 ft3/hod)
Max. flow rate (ventilation)
200–250 m3/hod
(7,063–8,829 ft3/hod)
300–350 m3/hod
(10,594–12,360 ft3/hod)
Number of protected persons during filtration (continuous operation)
up to 40–50
up to 60–75
Safe air filtration:
Nuclear attack
yes
yes
Chemical attack
yes
yes
Biological attack
yes
yes
Toxin attack
yes
yes
Industrial pollutants
yes (the majority of pollutants)
yes (the majority of pollutants)
Chemical plant accident
yes (the majority of pollutants)
yes (the majority of pollutants)
Nuclear power plant accident
yes (the majority of pollutants)
yes (the majority of pollutants)
Weight without filters
41 kg (90 lb)
42 kg (93 lb)
Weight of filters
8 kg (18 lb)
9 kg (20 lb)
Number of filters
4
4
Dimensions (working regime) (length × width × height)
75 × 72 × 120 cm
(30 × 28 × 47 in)
79 × 72 × 120 cm
(32 × 28 × 47 in)
Dimensions (standby regime) (length × width × height)
75 × 60 × 120 cm
(30 × 24 × 47 in)
79 × 60 × 120 cm
(32 × 24 × 47 in)
Power drive
manual as standard
manual as standard
Min. age for effective operation
generally from 5 years old
generally from 6–7 years old
Mode of operation
primarily weight transfer
primarily weight transfer
Operation
1 person (although possibly 2 people)
1 person (although possibly 2 people)
Easy operation
yes
yes
Mobile
yes
yes
Assembly
not required
not required
Color
yellow as standard
yellow as standard
Practically maintenance-free
yes
yes
Price (fully functioning filter ventilation equipment)
85,749 CZK
(approx. 4,016 USD or 3,680 EUR)
105,999 CZK
(approx. 4,964 USD or 4,549 EUR)


sold out
The filter ventilation equipment received patent (registration number 305134) and utility model (number 26300).
The price in USD or EUR depends on the current rate of exchange of the Czech crown on the date of payment.
Our filter ventilation equipment contains several conveniences which place it among the absolute top in filter ventilation equipments designed especially for ordinary civilians. Without exaggeration, this equipment represents a completely new generation of filter ventilation equipments designed for the most demanding conditions where there is no certainty of permanent access to a power source and where the demands on air filtration are extremely high. It can be used to air filtration not only by healthy, rested, strong and well-fed adult individuals, but also by old, sick and lightly injured people and even by children. Thanks to this filter ventilation equipment, ordinary civilians will have easy access to safe air and will thus often be protected against harmful air just as well as generals, commanding officers or various prominent persons hiding in shelters equipped with military filter ventilation equipment.
At the same time we will eleborate a free of charge analysis for you from which you will know what the minimal number of filters you should have in reserve for different spans of filtration; the calculations will be made with regard to the number of sheltered occupants, the size of the rooms designated for their sheltering, the distance of individual possible targets of attack from your shelter, the location of the expected place of your sheltering (on a hill, in a valley, in a forest, etc.). The season will also be taken into account. The assessment of the danger resulting from a possible chemical attack near your location will take into account expected concentrations (and their changes in time) of the most dangerous chemical agents in your area. The calculations will be made for such atmospheric conditions that would present the greatest danger to you.
Anybody interested in this filter ventilation equipment will be able to try it out on our premises wholly without obligation to buy. We recommend to take your children with you so that they can try it out too. After returning home the facts will be discussed in the family circle and on their basis a decision will be made whether to buy the equipment.
It is common knowledge that in the event of thermonuclear, chemical or biological warfare, people in contaminated areas should wear protective masks with the appropriate filters and possibly also other protective equipments for a certain period of time. In most countries of the world, the majority of people over the age of 18 must buy their own mask including appropriate filters in advance. It is expected that in case of a war threat to the State or of a state of war protective masks, jackets and "carry-cots" for children and a very small part of the adult population would be issued. Only few countries plan to issue protective masks with filters to the "whole" population.
Timely and correct putting on a protective mask with the appropriate filter does not necessarily mean ending the problem of contaminated air. Besides the mask, it might often be necessary to put on protective suit. The tolerability of the protective masks and child protective jackets and "carry-cots" is usually only in the range of hours (6–24) and not days. The time for which a filter can be used depends on its type, on the concentration and type of the contaminant, the amount of dust in the surrounding environment, the amount of carbon monoxide (CO) and carbon dioxide (CO2) in the filtered air, on physical exertion, time spent in the contaminated area, respiration rate, etc. So a filter is safe to use from tens of minutes to several hours; under relatively "favorable" conditions, it might last even a couple of days. It is evident from the above that a protective mask, jacket or "carry-cot" serves only for a relatively short stay in the contaminated area.
In most countries, undamaged and fully equipped fallout shelters are, theoretically, capable of providing shelter to a part of the population for 1 to 4 days. This depends especially on the number of sheltered persons, on the concentration and type of the contaminants in the atmosphere, on supplies (located inside the shelter) of spare collective filters and pre-filters, supplies of fuel for the genset, amount of soda lime or other chemical used to capture CO2, the number and size of full oxygen bottles needed to maintain a certain percentage of oxygen in the air, an adequate amount of drinking water and, of course, the presence of trained staff in the shelter. We should add that the capacity of the shelter is given as the number of people that can be seated.
It is obvious that the biggest problem is supplying the shelter with safe air. We can bring in air from outside using the filter ventilation equipment with the appropriate filters or we can switch to a closed internal circuit. An external circuit is not suitable, especially in circumstances when there is heavy smoke, high concentration of CO2 and CO or a large concentration of chemical warfare agents or radioactive substances outside, because this could cause very quick clogging of the filters. Carbon monoxide and carbon dioxide would penetrate the filters easily. If there were not enough reserve filters, it would be necessary to switch to the internal circuit – that would be associated with a rise in CO2 levels and of temperature in the shelter. A large amount of soda lime is needed to capture carbon dioxide. Of course, concurrently with the CO2 capturing we should supply oxygen (O2) and maintain its minimal concentration at a safe level. The capacity of the oxygen bottles would run out very quickly, even in well-equipped shelters. It would be also possible to oxidize the air chemically, but we would require tons of chemicals. This means that a fully occupied shelter running uninterruptedly on an internal circuit would be usable for just one or two days. After that we would not probably have enough chemicals to absorb CO2 and no more supplies of compressed oxygen in the oxygen bottles. It is also important to understand that the more spare collective filters, soda lime, barrels with fuel for the genset and oxygen bottles there are in the shelter, the less space for people.
We could claim therefore that civilians would be able to stay in the shelters as long as they had enough drinking water, the appropriate filters and working genset or manual filter ventilation equipment. In most cases, people would have to leave the shelters after four days and, if necessary, move to uncontaminated areas. This might be very difficult in reality, because the speed of such move would depend on many circumstances (the passableness of roads, the size of the contaminated area, the concentration and type of the used chemical warfare agents, poisons (toxins) or biological warfare agents, the weather, the operability of army units and rescue services, the eventual radiation level on the terrain, the age, gender and health status of the transferred individuals, the discipline of the civilians and their knowledge about protection against weapons of mass destruction, a sufficient number of protective masks with the appropriate filters and of protective suits, etc.).
It is improbable that a nuclear, chemical, biological or toxin attack would take place completely out of the blue. Such an attack would most probably be preceded by rising international tension (more information is in the article What lies ahead in 2011 and 2012 and in the sections titled World developments and Global news) surely perceptible for at least several days before any attack (depending of course on the type and quality of the used information sources, on how old the information would be and on how it is evaluated). Since the equipment of most nuclear shelters is designed to protect people for a few days only, it could be expected that people would not be allowed in until shortly before an impending attack. The attack could be carried out very quickly and in some cases there might not be more than several minutes before the shelters close. At night, of course, it would be much more difficult to get to a nuclear shelter. The possibility of an electromagnetic impulse, the destruction of a power plant, etc., causing a power outage in our area should also be taken into account. In such a case we would have to rely on warning sirens (if they are still working) or on our own judgment.
People should also know how to recognize when a filter needs replacing. Most current chemical warfare agents cannot be detected by smell (or sometimes when the concentrations are high) and a filter replacement that is done too late could in some cases be futile as well. When you ask a producer of an activated carbon filter about filter life in real conditions, he mostly brush you off by claiming that it depends on many circumstances, like for instance wind velocity and direction, temperature, type of chemical (warfare) agent present in the atmosphere, … He is right, of course, but this is not information that would be of any use to anyone. That is why we will attach recommendations to our filter ventilation equipment for people to have at least an approximate idea of how long a filter ought to serve under unfavorable circumstances in a given area. We believe it is better to replace the filter when it reaches two-thirds of its life than to do so a couple of hours after.
By purchasing, you agree to the terms and conditions.